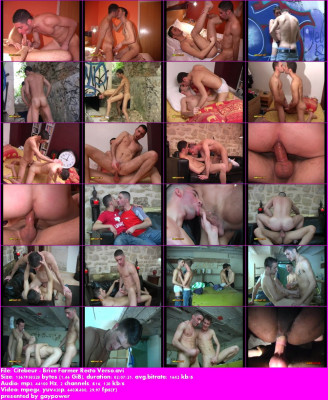 Videobin Stream & Download

Clipwatching Stream & Download
Hxload.to Stream & Download
Doodstream Stream & Download
Beschreibung:
Brice Farmer was first discovered in the "Hot Cast", first season competition show, which he won and is now rapidly gaining popularity amongst gay porn fans in Europe. He has a superb body, a juicy lips and a sexy smile. In less than three years, Brice has now worked for most European major porn companies.
Exclusively for you on DVD, Brice like you've never seen him before, in 6 new scenes, teamed up with actors from different parts of Europe. Watch him in a hotel room where he meets Ayden, a cute English dude. Enjoy him banging the ass off Max Schneider in a pure rascal style or in a more romantic and private way, in his bed, when he wakes up, horny and in good company…
You also get to see something you won't forget anytime soon: A four-some where Brice gets fucked for the first time in front of a camera. His smooth, tight, hard ass got all the boys excited!
Brice is definitely a rising value in the porn industry and you'll enjoy watching him perform! By the end of this DVD, you will know Brice in and out!
Year: 2012
Studio: Citebeur
Actors: Ayden, Bitume, Boris, Brice Farmer, Jeremy, Lakdar, Leonardo, Ludo, Nassim, Souan, Yacine