Vorschau / Thumbnails von Shower Sex 1: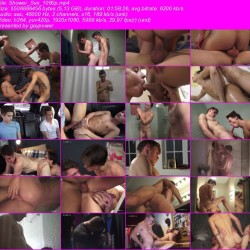 Stream und Direct Download Links:
Videobin Stream & Download

Doodstream Stream & Download

Clipwatching Stream & Download

Beschreibung:
Toss your clothes off and hop in the shower to lather up with these sexy young, sudsy studs and their best looking buds. They're wet, willing and aching to help one another get at those HARD to reach areas because these dirty boys need to be dealt with and scoured deep. This well curated collection of cock is dripping wet with desirable dudes getting their pipes snaked long and hard by well tooled pucker plumbers. Sopping wet and aching to be drained, over half of these steamy shower scenes find our foamed up fella's big bareback boners shower cap free, such as real life boyfriends Evan Parker and Tyler Hill. The portastic pair's bare cock connection in the shower is oozing with orgasmic overflow, but we're ALSO treated to a BONUS bang in the backseat of a car from the cock hungry couple!
These bathroom butt fuckers run the gamut from fan favorites like those two tasty twinks to new man meat Shane Cook and his COLOSSAL, uncut cock. Soap slicked, blue collar bang machine Shane lays some SERIOUS pipe down on Cole Claire until his humongous super soaker gives the kid a sticky sweet shower of it's own. This steamy, wet sex collection is dripping with deviously delicious dudes starting every scene soaking wet…. and finishing just the same. Drop the soap, we dare you.
Year: 2018
Studio: Helix Studios
Actors: Justin Owen, Troy Accola, Evan Parker, Tyler Hill, Joey Mills, Landon Vega, Cole Claire, Shane Cook, Ashton Summers

Download Shower Sex [1080p] via mega.nz 5.13 GB

Download Shower Sex [1080p] via share-online.to 5.13 GB

Download Shower Sex [1080p] via rapidgator.net 5.13 GB

Download Shower Sex [1080p] via filefactory.com 5.13 GB

Download Shower Sex [1080p] via ddownload.com 5.13 GB

Download Shower Sex [1080p] via filer.net 5.13 GB